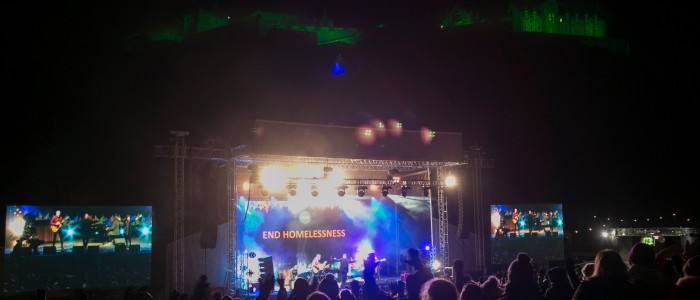 This weekend saw Unique Events deliver Sleep in the Park – a massive fundraising success with over 8,000 people sleeping rough to support Scottish charity Social Bite. So far over £3.6 million has been raised to help eradicate homelessness in Scotland within the next five years. In addition to the monetary donations, 164 job opportunities and 33 temporary housing solutions were donated to the homeless community across Scotland.
The stellar music line up of Frightened Rabbit, Amy MacDonald, Deacon Blue and Liam Gallagher braved the cold to salute and entertain the thousands sleeping out under the Castle on Saturday with Gallagher bringing his typical swagger and style! Host Rob Brydon was joined by Sir Chris Hoy, Ewen Cameron, John Watson OBE, Sharon Martin, Bonnie Higgs, Social Bite staff and Social Bite founders Alice Thompson & Josh Littlejohn and Sir Bob Geldof, who spoke of the importance of unity, community and banding together to fight the cause. John Cleese helped settle the audience with a bedtime story before fundraisers wrapped up warm and bedded down for the night.
Throughout the night free hot drinks were made available to everyone as well as warming stations and we were bowled over by the commitment of those taking part – braving the coldest night of the year (-8!) and staying put the whole night, in fact we had to encourage people to leave in the morning!
We were overwhelmed with the commitment and dedication from the general public, contractors, suppliers and our staff in pulling off such an astounding event in the depths of winter. We're proud to have been involved in a project that promotes a realistic goal to end an unnecessary and unfortunate situation for thousands across Scotland. What a way to end another fantastic year of events – see you in 2018!
Next Article