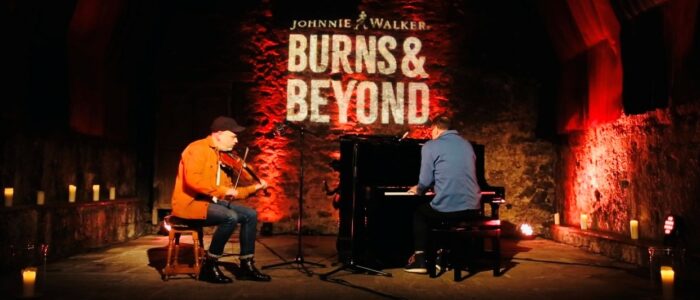 Luve, Hope & Kindness as Burns&Beyond with Johnnie Walker returned in 2021 for a FREE online programme of music and poetry from across Scotland and Beyond…
Burns&Beyond returned for a third year celebrating the life and legacy of Robert Burns for 2021 with a series of FREE online events presenting art and culture from some of Scotland's leading performers and musicians. Set against a theme of Love, Hope and Kindness, Burns&Beyond's digital programme was viewed over 50,000 times over the Burns Night weekend, helping maintain the momentum of the festival as Edinburgh's flagship Burns celebration and a quality cultural celebration for Scotland.
The 2021 programme presented a free online programme of live music and poetry from Lucky Middlemass's Tavern, curated by both Aidan O'Rourke (Lau) and arts collective Neu! Reekie!, a series of online performances to help everyone celebrate their very own Burns Night at Hame and an online celebration of the Burns Collection at the National Museum of Scotland. Following a sell-out appearance at last year's festival which helped raise over £10,000 for charity, KT Tunstall returned with a special online Burns&Beyond performance of Ae Fond Kiss.
Penny Dougherty and Alan Thomson, Directors of Unique Events, said "We believe that this year it is more important than ever to celebrate the words and music of our National Bard, and to bring some light into our lives after the dark days of 2020. Burns&Beyond 2021 highlighted the deep and universal themes of Love, Hope, Honesty and Kindness which run through the work of Robert Burns, all of which resonate now more than ever. Once again Scotland is being asked to Stay Home and Save Lives and Burns Night 2021 was an opportunity for everyone to show kindness to each other while giving continued thanks to our frontline staff and key workers."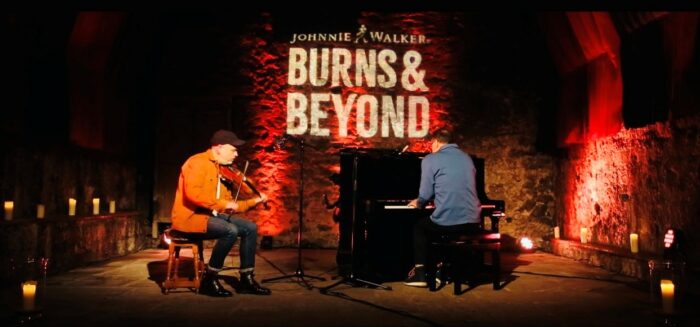 Lucky Middlemass's Tavern was filmed on location in The Caves, the site of the famed 18th century tavern where the ale and claret flowed along with progressive discussion and music, and where literary greats and Enlightenment figures including Robert Burns, David Hume, Adam Smith, Deacon Brodie, James Watt and Benjamin Franklin were just some of the regulars, an uproarious and thought-provoking assembly of song and poetry has been curated by Lau's Aidan O'Rourke. This includes collaborations and performances from Deacon Blue's Ricky Ross, folk-noir balladeer Rachel Sermanni, vocalist Aidan Moffat (Arab Strap), piping legend Allan Macdonald, along with award-winning poet and author Kathleen Jamie, as well as Aidan O'Rourke himself.
Neu! Reekie!'s annual twist on Burns is always one of their most eagerly anticipated events. For Burns&Beyond they once again present the sinister, sanguine and surreal with a dark, explosive performances of poetry, music and dance, featuring cult musician Withered Hand and punk-poet Billy Liar, dance and performance artist Suzi Cunningham, and spoken-word from award-winning Scottish-Algerian poet Janette Ayachi (Saltire Poetry Book of the Year Literary Award 2019), along with Neu! Reekie! founders Michael Pedersen and Kevin Williamson.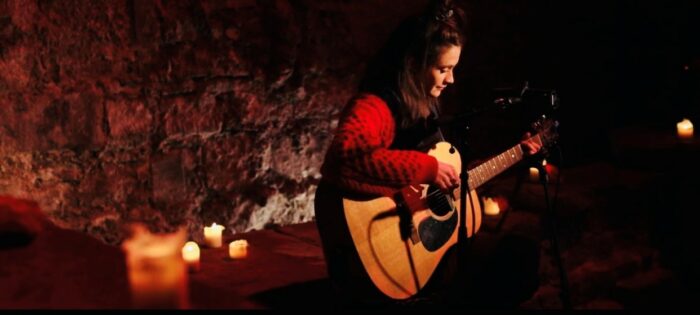 Lucky Middlemass's Tavern performances are available to view online free of charge through the Burns&Beyond website, with audiences encouraged to make their own act of kindness for Burns Night by donating to the festival's official charity Tiny Changes, helping make a big impact on the mental health of children and young people across Scotland. (www.burnsandbeyond.com)
Burns&Beyond at the National Museum of Scotland presents a new online collaboration providing an insight into the life of Robert Burns through historic artefacts from the national collections, presented by Curator Dr Calum Robertson, along with music from the award-winning Kinnaris and poetry from Burns himself, performed at the world-famous museum.
Culture Secretary Fiona Hyslop said: "This virtual event will bring together a wealth of Scottish and international talent to celebrate the remarkable life and legacy of Robert Burns with poetry, music and performance.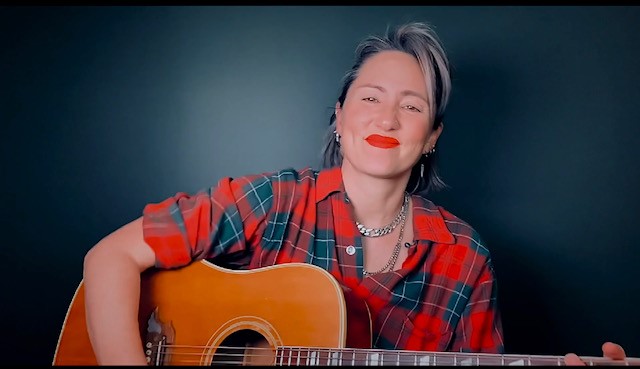 "Burns Night is one of Scotland's most well-known and best loved celebrations, enjoyed here and across the world. Although we are unable to meet up physically this year, we can still come together and enjoy taking part in this event to continue the traditions of Burns Night, from the safety of home."
Burns&Beyond with Johnnie Walker is produced by Unique Events and supported by City of Edinburgh Council, Johnnie Walker, Scotland's Winter Festivals, EventScotland's Scotland Events Recovery Fund and Essential Edinburgh. Full details of all events in the 2021 Burns&Beyond with Johnnie Walker Festival, and free to view Lucky Middlemass's Tavern and Burns Night Hame, visit www.burnsandbeyond.com
Previous Article
Next Article