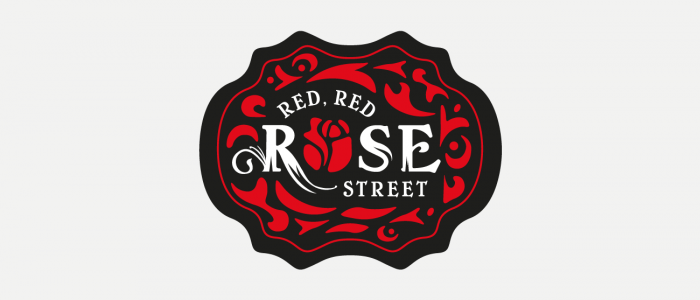 Following the success of the event last year the second Red, Red Rose Street Festival, celebrating all things Burns, returns to the city centre in January 2018 with an even bigger and better programme of events.  Focused around Rose Street, the Burns celebrations will include a Burns Supper, two family ceilidhs, Burns Club comedy nights, Captivate Theatre's musical of the life of Rabbie and animations and activities along the street over three days.  Free workshops for all ages include instruction in Scottish Dancing, Burns Poetry and Making Speeches – just in time for the Burns festivities.   Running from Thursday 25 January to Saturday 27 January, Red, Red Rose Street is supported by Scotland's Winter Festivals, the City of Edinburgh Council and Essential Edinburgh and produced by Unique Events in partnership with Gilded Balloon.
On Burns Night itself, Red, Red Rose Street welcomes individuals and groups (18+) to a fun and friendly evening of toasts, songs and recitals together with the traditional piping in of the haggis and a full Burns Supper in the magnificent surroundings of Freemasons Hall on Thursday 25 January.    Josh Littlejohn of Social Bite will give the Immortal Memory address and a donation from every ticket will be made to Social Bite's campaign to end homelessness in Scotland.
Two Family Ceilidhs will take place in Freemasons Hall from 1.00pm to 3.00pm on Friday 26 January and Saturday 27 January and all ages and abilities are welcome to join in.   The ceilidh band will be accompanied by a caller who will help all newcomers learn the steps and enjoy the dances.
Fresh from their success in the 2017 Edinburgh Fringe Festival, Captivate Theatre, the Edinburgh based award-winning theatre company, will present 'Rabbie' by one of Scotland's leading dramatists and three times Fringe First award winner, the late Andrew Dallmeyer.  The musical distils the essence of Burns' life and his paradoxical personality through his poetry, music and the witty and poignant words of Dallmeyer.
In association with Gilded Balloon, The Burns Comedy Show features three nights of performances from top Scottish comedians, compered by Scott Gibson.  From 9.30pm on Thursday 25, Friday 26 and Saturday 27 January, Rosco McClelland, Harriet Dyer and Alfie Brown will present their take on Burns in the intimate surroundings of the Basement Theatre, part of the Rose Theatre Edinburgh.
Dr Alasdair Allan, Minister for International Development and Europe, said:  "Burns Night is undoubtedly one of Scotland's most well-known and best loved national days, celebrated by millions around the world. Burns is one of our favourite icons and he encapsulates the very essence of being Scottish – creativity, pride and confidence. Each new year millions of people from all corners of the world join hands and come together to sing 'Auld Lang Syne' together, perhaps Burn's best known contribution.
"Every year on January 25th, the day of his birth, Scots and Scots at heart remember the life and cultural legacy of Burns by hosting a Burns Supper.  Glasses of whisky are raised in toast and haggis is addressed like no other food, it is a wonderful opportunity to come together in celebration.
"After a successful first year, it's apparent that Red, Red Rose Street is one of the best events in Scotland at which to celebrate Scotland's most famous poet. From family ceilidhs to theatre performances, there's something for everyone whether they are new to Burns or not."
Edinburgh's Culture and Communities Convener, Councillor Donald Wilson, said:"I'm delighted that the Red, Red Rose Festival is returning. Building on the success of last year, the programme for 2018 is set to be a fascinating combination of music, comedy, poetry and spoken word events.
"The events as well as the free workshops are a special opportunity for the whole family to learn more about Burns whilst celebrating the connections between Scotland's Bard and the capital city."
Roddy Smith, Chief Executive of Essential Edinburgh said:"We are delighted to have Red, Red Rose Street back and to support this wonderful event again in 2018. It's a fantastic festival which draws attention to one of the city centre's most popular streets for entertainment and retail, and it does it in a way totally in keeping with the ambience of Rose Street by celebrating our national Bard."
Alan Thomson, Director of Unique Events, said "Rose Street has a strong association with Burns, and we are very excited to be producing the Red, Red Rose Street Festival for a second year, with an even larger programme of events and activities for Burns fans of all ages.   The family ceilidhs and Burns Supper in Freemasons Hall offer a rare opportunity to enjoy this magnificent space and to celebrate the words and music of Scotland's Bard."
Tickets are now on sale for all the Red, Red Rose Street events at redredrosestreet.co.uk.  Tickets for the Red, Red Rose Street Burns Supper at Freemasons Hall on Thursday 25 January are priced at £60.00 (including booking fee and donation to Social Bite), and for the Family Ceilidhs on Friday 26 and Saturday 27 January (also at Freemasons Hall) at £6.00 (including booking fee).   Tickets for The Burns Club at the Rose Street Theatre on Thursday 25, Friday 26 and Saturday 27 are priced at £12.50 (including booking fee) and Captivate Theatre, also at the Rose Street Theatre, at £15.00/£13.00 (including booking fee).  Workshops are free of charge, but ticketed (tickets available early January 2018).
Next Article