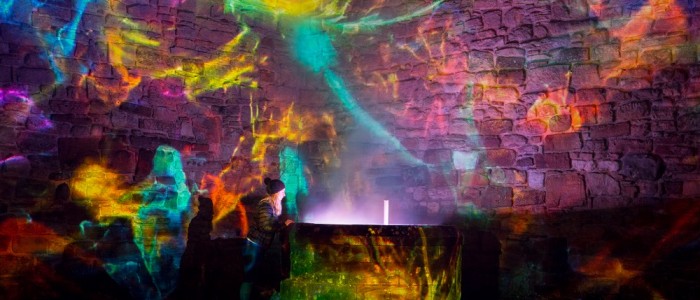 We are delighted to announce the success of ILLUMINIGHT, the fire and light spectacular in Kilmarnock's Dean Castle Country Park which ended Sunday 19th November. The inaugural event welcomed over 38,000 visitors during its four week run.
Presented by East Ayrshire Leisure, created and produced by Unique Events in collaboration with production specialists Black Light, Illuminight celebrated the re-opening of Dean Castle Country Park following a multi-million pound restoration and renovation project funded by the Heritage Lottery Fund and East Ayrshire Council.
Councillor Elena Whitham, Chair of East Ayrshire Leisure, said:  "Illuminight brought something unique and different to East Ayrshire and the public response has been overwhelmingly positive. The display surpassed everyone's expectations and was the perfect way to showcase our new and improved country park. The event enticed visitors from far and wide to our area and to experience what we have always regarded as a hidden national treasure.
"I was totally mesmerised by the display as were both of my children (the 9 year old as well as the 18 year old) and we hope that we can bring this bewitching event back to East Ayrshire in the future."
Penny Dougherty, Director of Unique Events, said:
"Dean Castle Country Park was a stunning location in which to set the first Illuminight, and we are thrilled that the people of Kilmarnock, East Ayrshire and beyond came in their tens of thousands to enjoy the spectacular lighting and visual effects.

We have been overwhelmed by the public response to the first year and we hope that from this strong starting point we can position Illuminight as one of the country's leading winter attractions, welcoming visitors from across the UK and beyond.   We will continue to showcase the redeveloped Dean Castle Country Park and put Kilmarnock firmly on the map as an exciting event destination providing quality entertainment for both locals and visitors alike."
Did you know that:
1134 Trees around Dean Castle Country Park were individually lit
There were 438 lightbulbs on the Illuminight sign in front of Dean Castle
The Light Show over the Quarry Pond ran 1104 times
The Sensory Button was pressed 13,440 times
Over 10,000 marshmallows were toasted over open fires
Illuminight Staff walked over 40,000 miles during set up and operation of the event
Next Article