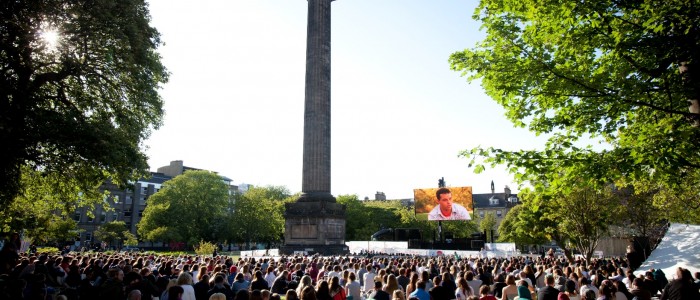 Edinburgh International Film Festival's hugely popular open-air cinema, Film Fest in the City, is set to return to St Andrew Square Garden this summer, with the Festival announcing a jam-packed line-up of free screenings from Friday 16 to Sunday 18 June.
Hosted by Edinburgh International Film Festival (EIFF), in partnership with EdinEvents – the events arm of Essential Edinburgh – the free outdoor cinema will showcase an epic mix of movies, from classics including Singin' in the Rain, Clueless and Labyrinth, to family favourites Trolls, Beauty and the Beast, The Jungle Book and Avengers Assemble.

Critically-acclaimed blockbusters including Rogue One: A Stars Wars Story, Kubo and the Two Strings and EIFF 2016 Audience Award Winner Hunt for the Wilderpeople will also feature, alongside special 'dance along' screenings of Mamma Mia! and Dirty Dancing in association with Dance Base, Scotland's National Centre for Dance.
Mark Adams, EIFF Artistic Director said: "We're thrilled to be rolling out the green carpet for the sixth annual Film Fest in the City. Whether you want to dance and sing-along to a cult classic or gather the family to watch a film under the stars, this year's Film Fest in the City really does have it all."
Launched in 2011, the St Andrew Square screenings were created to bring film lovers into the city centre, to celebrate the capital's rich culture and creativity and generate excitement during the run-up to the world-famous EIFF.
Roddy Smith, Chief Executive of Essential Edinburgh said "This is a tremendous event which has grown in popularity hugely since we first organised it in 2011 and is now a must-attend for many film-lovers and others in the city. Essential Edinburgh is delighted to continue to work with EIFF to create this unique event, and we look forward to lots of people enjoying the exciting, fun programme that we have put together this year."
Once again this year all screenings will be free with no ticket required, just turn up and join in!
FRIDAY 16 JUNE
4.30pm – 6.05pm WHAT'S UP, DOC? (Cert U, 1hr 34mins, 1972)
6.20pm – 8.15pm LABYRINTH (Cert U, 1hr 38mins, 1986)
8.15pm – 10.45pm AVENGERS ASSEMBLE (Cert 15, 2hr 23mins, 2012)
SATURDAY 17 JUNE
10.30am – 12pm TROLLS (sing-a-long) (Cert U, 1hr 30mins, 2016)
12.20pm – 1.50pm BEAUTY AND THE BEAST (dress up party) (Cert U, 1hr 28mins, 1991)
2.15pm – 4pm THE JUNGLE BOOK (Cert PG, 1hr 44mins, 2016)
4.25pm – 6.15pm MAMMA MIA (dance along) (Cert PG, 1hr 46mins, 2008)
6.40pm – 8.20pm CLUELESS (Cert PG, 1hr 37mins, 1995)
8.45pm – 10.25pm DIRTY DANCING (dance along) (Cert 12, 1hr 38mins, 1987)
SUNDAY 18 JUNE
10.30am – 12.30pm CARS (Cert PG, 1hr 52mins, 2006)
12.45pm – 2.30pm KUBO AND THE TWO STRINGS (Cert PG, 1hr 42mins, 2016)
2.45pm – 4.35pm SINBAD AND THE EYE OF THE TIGER (Cert U, 1hr 48mins, 1977)
4.45pm – 6.30pm SINGIN' IN THE RAIN (Cert U, 1hr 43mins, 1952)
6.40pm – 8.20pm HUNT FOR THE WILDERPEOPLE (Cert 12A, 1hr 37mins, 2016)
8.30pm – 10.45pm ROGUE ONE: A STAR WARS STORY (Cert 12A, 2hrs 14mins, 2016)
Next Article