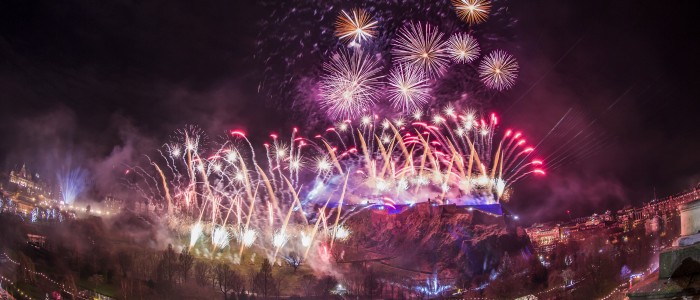 Unique Events are deeply disappointed in the recent Tender process held by City of Edinburgh Council with regard to Edinburgh's Winter Festivals and hugely saddened by the decision not to continue with our services as producers of Edinburgh's Hogmanay, a festival which we created and have produced for over 24 years.
Since its inception in 1993, Unique Events have positioned Edinburgh's Hogmanay as a world leading festival, placing Edinburgh firmly on the map as a winter destination,  attracting audiences from over 80 countries around the globe and which only last week was recognised at the VisitScotland Scottish Thistle Awards as Scotland's 'Best Cultural Event/Festival'.
As an Edinburgh company and team, Unique Events pride ourselves on being ambassadors for both the capital and Scotland, championing local industry and the incredible talents in the city which for over 24 years have produced a high quality and diverse Edinburgh's Hogmanay Festival programme, presenting the very best in Scottish music and culture to a cumulative audience of over 3m people; delivering complete sell-out events for the last three years. Under the expertise of Unique Events, Edinburgh's Hogmanay has gone from strength-to-strength, annually attracting audiences of over 150,000 and generating an economic benefit for the city of over £40 million.
Unique Events are extremely proud of what we have achieved, producing  a world-class Festival for the city, showcasing Edinburgh and Scotland to the world, positioning our small city up there alongside the giants of New Year celebrations in New York, Sydney, Rio de Janiero and London.
This year Edinburgh celebrates the 70th anniversary of its world-famous festivals and since the creation of the first three of its festivals in 1947, the Scottish capital has deservedly become known as the world's leading festival city.  In a year filled with celebrations and special events we are obviously heartbroken not to continue to produce Edinburgh's Hogmanay, delivering the world-class 25th Anniversary programme which the festival, city and our audiences so richly deserve.
Edinburgh's Hogmanay is a Council owned event, and the process of the Tender is to provide the most 'economically advantageous' outcome for the city, but this should not be at the expense of the quality and safety of the festival.  Despite winning on quality, programme and experience, Unique were unsuccessful due to the proposed pricing of the contract. We believe the almost 20% reduction in Council subsidy, (compared to cuts of around 5% to other Festival grants) coupled with dramatically increased event costs present a very real threat to the Festival. We are deeply concerned for the future of Edinburgh's Hogmanay and believe that Scotland's New Year Festival runs the risk of losing its international status.
If last year's hugely successful event is to be the last great Edinburgh's Hogmanay, we certainly went out with a bang, producing one of the best ever festivals and leaving our audiences and the city with unforgettable memories. Thank you to everyone who has been part of this incredible Edinburgh's Hogmanay journey.  Unique Events look forward to continuing to produce more quality events for Scotland in years to come and will be announcing exciting new projects very soon.
Next Article