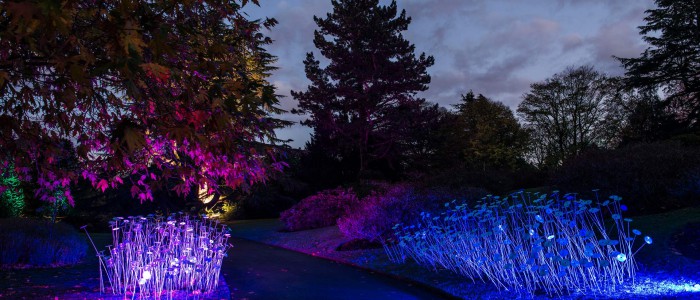 We are delighted to be working with Royal Botanic Gardens Edinburgh and Blacklight on Botanic Lights.
Taking place between 29th October and 22nd November you are invited to 'Experience Four Seasons in Just One Night'
www.rbge.org.uk/whats-on/home/botaniclights
Tickets
Book online here
To book by phone call 0844 573 8455 (open 10am-6pm Mon-Sat, closed Sunday).
Tickets are priced £14.00 for adults, £7.00 for children under 16. This year, family tickets are available from a starting price of £38.00 (available for 5pm -7.30pm sessions). Groups (10+ adults) pay £12.00 per person and infants (0-2 years) and carers go free, but still require an event ticket. Prices quoted include all booking fees.
Warming mulled wine, beers, hot drinks and snacks are available at the East Gate Lodge and the Terrace Café in the Botanics.
Next Article